Obviously I'm not so good with the Friday thing, but I like this...so, once again we'll just pretend it still Friday for the sake of this post.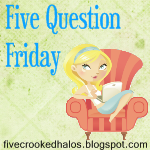 1. Have you ever testified in court? For what?
I've never testified in court, not that I don't think it wouldn't be exciting or anything because I do. I just run in dull circles I guess!
2. Do you still have your wedding dress?
I do not have my wedding dress and that's a good thing. We flew to Vegas for the weekend to get married, no, not by Elvis and I do not like the dress I chose to wear. I looked like a Catholic (which I'm not) school girl...still not sure what I was thinking.
3. Is there a special place you like to go when you're happy, sad, stressed, etc.?
Oh my, yes! Any of the above feelings are good reason to go to my favorite nursery or in a pinch any that is close by. Just walking into a plant nursery can boost my spirits, calm me down or further encourage my already good mood! The second place is the bookstore, same effect as above!
4. If you have kids, do they sleep with you? If you don't have kids...will you let your kids sleep with you when/if you have them?
My girls sleep with me only when my husband is out of town. They used to fight over who's night it was, but now it's just the little one that jumps in and claims her spot.
5. Do you watch late night TV?
I'd have to be awake to watch late night TV, so this one is a negative...I turn into a pumpkin at 10:30 with rare exceptions!
I'm participating in a Blog Hop hosted by Mama M at
My Little Life
, hop on over to join in the fun!
Have a great weekend!
Mandy