I have always loved to write, so when I saw this weekly meme, I thought why not!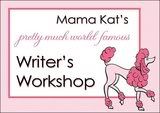 Out of the 5 prompts listed for the
Writer's Workshop
, I'm think I'll go with the listing 100 things I want to do before I turn 100. Otherwise known as a Bucket List...I probably won't get to 100, but we'll see!
Learn to ballroom dance
Go to Myrtle Beach in South Carolina
Take my children to Disney
Visit an Amish community
Visit Maine or Rhode Island to see the lighthouses
Eat lobster on the beach one one of the above locations
Take a trip to Spain
Read all the books in my library
Instill my love of reading in my children
Take piano lessons, again
Run a 5k without stopping, then
Run a 10k without stopping, and then
Run a half marathon (no desire for the full)
Open a used bookstore/succulent nursery
Run all the above races with my oldest daughter
Write a book
Dance in the rain with my husband
Take off on a Girls Only adventure with my mother
Another Girls Only adventure with my best friend
Yet another Girls Only with my girls...not in our house!
Climb a mountain
Master Zumba and become an instructor
Teach piano lessons to children
Volunteer at a crisis center for young girls
Volunteer at a women's shelter
Visit Graceland
Watch my daughter's marry the man of their dreams
Visit Holland and get my picture in a field of tulips
Loose 15 lbs and keep it off
Watch my daughter's grow in their love of their Heavenly Father
Read my Bible through from cover to cover
Live closer to my parents
Gain control of my temper
Take a summer off to spend with my girls
Teach my girls to drive like their mother
Help my mother make a blog
Take photography lessons
Get as close to mastering the Fruits of the Spirit as I possibly can
Learn to belly dance
Make a scrapbook for each of my girls
Get season tickets to the Majestic Theatre
Become season ticket holders for the San Antonio Spurs...for all 4 of us
Pay off all debt including the house
Be the best friend I can be to my current friends and ones I've yet to meet
Own a Westie
Stomp grapes
Learn to sew
Redo my bathroom and put in a whirly tub
Have a miniature, pot-bellied pig to call my own
Attend a Broadway production of The King and I, Fiddler on the Roof and a number of other musicals
Get a reduction...I'll leave it at that
Put together a cookbook of my girl's favorite recipes to give them when grow up and leave me
Visit Hershey, Penn.
Learn to rollerblade
Take tennis lessons and play with my youngest
Go skydiving with my husband
Learn how to grill more than hotdogs without burning i
I didn't think I'd make it to 100, but I did suprise myself by getting to 38! I was at 38 and then took my bath and realized I'd left off belly dancing! Cut the bath short to fix this...I think I'm good with 57. I'm really content with a book or working with my plants, so this has been a good exercise in realizing that a little adventure wouldn't hurt me!
If you'd like to try, head over to
Mama Kats
and join in the fun!
Have a great night!
Mandy